Fly to Guangzhou Now
Guangzhou, also known as Canton, is the capital and most populous city of the province of Guangdong. Located in southern China on the Pearl River about 120 km (75 mi) north-northwest of Hong Kong and 145 km (90 mi) north of Macau, Guangzhou has a history of over 2,200 years and was a major terminus of the maritime Silk Road and continues to serve as a major port and transportation hub today, as well as one of China's three largest cities.
---
Main attractions
Places To Visit
---
Baiyun Mountain
Baiyun Mountain, formerly romanized as Pakwan, is a mountain range in Guangzhou, the capital of China's Guangdong Province. It is organized as the Baiyun Scenic Area and is the site of Luhu Park, Yuntai Garden, Mingchun Valley, Moxing Peak, Mingzhu Tower, Yunxi Ecological Park, and the Baiyun Sculpture Park.
---
Guangxiao Temple
Guangxiao Temple is one of the oldest Buddhist temples in Guangzhou, the capital of China's Guangdong Province.[1] As the special geographical position, Guangxiao Temple often acted as a stopover point for Asian missionary monks in the past. It also played a central role in propagating various elements of Buddhism, including precepts school, Chan (Zen), Shingon Buddhism, and Pure Land. In this temple, Huineng, the sixth Chinese patriarch of Chan Buddhism, made his first public Chan lecture and was tonsured, and Amoghavajra, a Shingon Buddhist master, gave his first teaching of esoteric Buddhism.
---
Lotus Hill
Lotus Hill is a hill in Panyu, Guangzhou, Guangdong, China, with Shizi Lake to the west. It covers an area of 2.33 square kilometres (0.90 sq mi) and has a peak 108 metres above sea level. It is 30 km from the city of Guangzhou proper and 60 nautical miles from Hong Kong. It is now a 4A-level national park. The hill's name comes from the legend of a vicious dragon in the South Sea who raised winds and waves in the Pearl River estuary flooding lands and capsizing boats, causing the local people to suffer.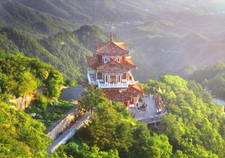 ---
---