Fly to Amritsar Now
Founded in 1577 by the fourth Sikh guru, Ram Das, Amritsar is home to Sikhism's holiest shrine, the spectacular Golden Temple, one of India's most serene and humbling sights. The same cannot be said for the hyperactive streets surrounding the temple.Amritsar is divided in two by a tangle of railway lines. The old city, containing the Golden Temple and other historic sights and bound by 12 medieval gates, is southeast of the railway lines. This is a fascinating area to explore, with a capillary network of narrow bazaars that seems to float between the centuries.
---
Main attractions
Places To Visit
---
Dukh Bhanjani Ber Tree 
Holding a spiritual importance in the lives of the devotees, the Dukh Bhanjani Ber Tree (a jujube tree) is one of the most visited and talked about scared places in Amritsar. Located in the Golden Temple Complex, the Dukh Bhanjani Ber Tree stands on the eastern side of the Amrit sarovar. Legend has it that Bibi Rajani's husband was cured of leprosy by taking a dip in the pond near the tree. The tree was renamed as Dukh Bhanjini which literally translates to 'eradicator of suffering'.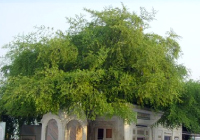 ---
One of the most sacred places for the Sikh community, Tarn Taran Sahib is a city founded by the fifth Sikh guru, Shri Guru Arjan Dev. Historically and religiously important gurudwaras like Darbar Sahib Sri Guru Arjan Dev Ji and Gurudwara Guru Ka Khuh are located in Tarn Taran. Sri Darbar Sahib Tarn Taran has the largest holy water tank in the world.
---
Chand Baori
Chand Baori is perhaps one of the most famous attractions in Amritsar. It is a spectacular step-well that also boasts of being one of the deepest and largest step wells in India. The well was constructed around 800 A.D. The well has 3500 narrow steps that tale you 13 stories down. The depth of the well is an astonishing 30 metres!
---
Kaiser Bagh Park
Built in between 1845-1850, the Kaiser Bagh Park is one of the most popular attractions of Amritsar. The quadrangular park boasts of a graceful pavilion, which is surrounded by yellow buildings on three sides. The entrance to the park is fascinating to say the least. A flight of stairs leads to the main floor, which seems almost like a bridge. This floor also houses a small temple. The architecture of the park exemplifies the blend of Mughal and Gothic style of architecture.
---