Fly to Chengdu Now
Chengdu is the capital of southwestern China's Sichuan province. Chengdu's history dates back to at least the 4th century B.C., when it served as capital for the Shu Kingdom. Artifacts from that dynasty are the focus of the Jinsha Site Museum. The city is also home to the famous Chengdu Research Base of Giant Panda Breeding, a conservation centre where visitors can view endangered giant pandas in a natural habitat.
---
Main attractions
Places To Visit
---
Giant Panda Breeding
The Chengdu Research Base of Giant Panda Breeding not only offers a chance to see these amazing creatures up close in their natural environment, it also provides an in-depth look at these laid-back animals. Established in 1987, the facility began with just six rescued giant pandas, a number that has since grown to exceed 80 animals and seen well over 120 panda births. Tours also include a chance to visit the on-site museum featuring exhibits dealing with the reproductive problems of these fickle bears. Often found sleeping, pandas are their liveliest during morning feeding times, so plan your trip accordingly.
---
The Leshan Giant Buddha
The Leshan Giant Buddha, a colossal stone statue of Maitreya, has been a UNESCO World Heritage Site since 1996. Standing 71 meters high and carved directly from the surrounding rock, this amazing feat was started by a Buddhist monk by the name of Haitong in AD 713. After his death, the work was continued by a number of other monks and artists until it was eventually completed in AD 803. Today, the figure is the largest sculpture of Buddha to be found anywhere in the world and attracts pilgrims and tourists from far and wide (it's also responsible for the saying, "The mountain is a Buddha and the Buddha is a mountain").
---
Mengdingshan Tea Plantation
Given the popularity of the beverage in China – not to mention across the rest of the world – no trip to Chengdu is complete without paying a visit to an authentic tea plantation. One of the country's oldest tea-growing regions is Mengdingshan, just a two-hour journey (and an easy day trip) from the city. In addition to enjoying beautiful scenery, a plantation visit provides a chance to learn about the different types of tea, as well as its importance in Chinese traditions and culture.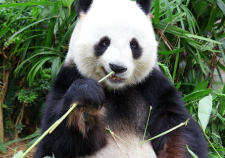 ---