Airline now flies 5x weekly to Penang and Pekanbaru, Indonesia from Melaka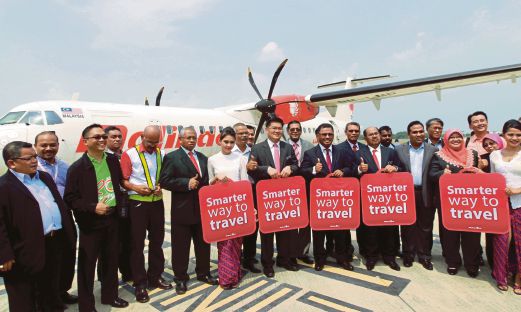 MELAKA, 5 NOV 2014 – The Melaka International Airport is set to see visitor numbers soar as Malaysia's hybrid airline, Malindo Air, marks the start of 5x weekly Melaka-Penang and Melaka-Pekanbaru, Indonesia flights today.
In celebration of the new routes, Malindo Air has opened bookings starting from only RM79 all-inclusive one way for Melaka-Penang and RM70 all-inclusive one way for Melaka-Pekanbaru.
This morning, the Penang-Melaka inaugural flight OD1330 touched down at Melaka International Airport at 11:30am and departed for Pekanbaru, Indonesia at 12:30pm*. The return flight OD311 arrived back in Melaka at 3:35pm and took off for Penang at 3:55pm. The Chief Minister of Melaka, YAB Datuk Seri Ir. Hj. Idris bin Hj. Haron and representatives from the State Government of Melaka and Tourism Melaka were present to greet the outbound and inbound passengers.
CEO of Malindo Air, Mr. Chandran Rama Muthy said, "We are proud to be connecting two tourist hotspots in Malaysia, Penang and Melaka, which received their UNESCO World Heritage Site status in the past few years as a recognition of their cultural importance and significance. This new flight connection will allow businessmen, frequent commuters and ultimately tourists to visit both popular locations via a quick and comfortable flight without the need to drive long hours."
"Besides, Melaka International Airport has all the facilities that an international airport needs to bring in more visitors. Hopefully through this launch, Malindo Air will pave the way for more inbound and outbound tourism opportunities for Melaka and position the city-state as a popular tourist attraction in Southeast Asia."
"We will also significantly be the sole airline plying this route at the moment," he added.
The flights depart Melaka for Penang and Pekanbaru 5x weekly on every Monday, Wednesday, Thursday, Friday and Sunday.
For more information, visit
www.malindoair.com
or reach out to our Call Centre between 9am to 9pm daily at 03-7841 5388.
For updates on Malindo Air's latest activities and promotions, connect with us via
---