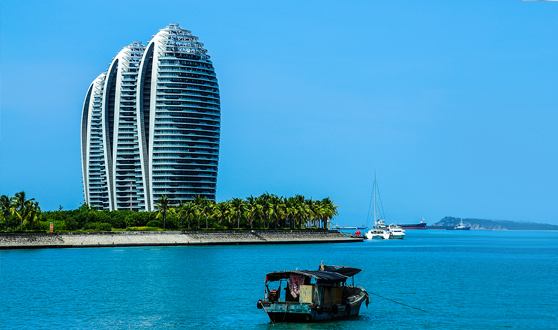 KUALA LUMPUR, 20 DEC 2015 –Malindo Air, recent winners of Airline of the Year 2014 and Top Performing Airline 2015 awards, today commenced a twice-weekly services from Kuala Lumpur to Sanya, in the province of Hainan in southern China, as a continuation to its expansion plans. The twice-weekly services will gradually be increased to four times per week. China marks the airline's tenth country in its international network expansion.
The new scheduled services from Kuala Lumpur to Sanya are via Penang. On every Thursday flight OD 604 departs KLIA2 at 9.20 pm, and arrives Penang at 10.20 pm. After a transit time of one hour, the flight departs Penang at 11.10 pm and arrives Sanya (SYX) at 02.05 am, the next day. There is no time difference between Malaysia and Sanya, and the flight time is two hours and fifty-five minutes.
The schedule is slightly different on Sunday, where flight OD 604 departs Kuala Lumpur for Penang at 05.50 am and arrives Penang at 06.50 am. It then departs Penang at 07:40 am and arrives in Sanya at 10.35 am. The narrow-body Boeing 737NG aircraft with a seat capacity of 180, with 12 Business Class and 168 Economy Class seats, is deployed on this new services.
"We are very excited about this new market. Despite China, being recorded as the third largest tourist generating market to Malaysia in 2014 with 1.6 million visitors after Singapore (13.9 million) and Indonesia (2.8 million), with an estimated population of 1.39 billion people in 2014, there is no doubt a huge tourism market available in China," said Chandran Rama Muthy, CEO of Malindo Air.
"According to Tourism Malaysia's statistic, improved accessibility, promotions offered by airlines and wide coverage of Visit Malaysia Year have been contributed to the increase of tourist arrivals from these markets. We hope to keep that momentum going. Our presence in the China market through effective advertising and promotional campaigns as well as other trade engagements will certainly help hike up tourist arrivals into Malaysia for the coming year. Moreover, our connectivity will spur economic development by encouraging new investment and business developments in both countries due to our seamless connectivity."
Forget the hassle of paying a hefty penalty for flight change! Malindo Air's new No Change Fee policy that allows unlimited date and time change up to 24 hours before departure at no extra charge is a first of its kind in Malaysia. Only non-promo fares are applicable and subject to higher fare difference.
For further enquiries, visit www.malindoair.com, write in to Customer Care at info@malindoair.com or contact the Call Centre at (60)3-7841 5388 from 9am to 9pm daily.
We're friendly! Connect with us on our official Facebook page for the latest updates and promotions.
For updates on Malindo Air's latest activities and promotions, connect with us via
---